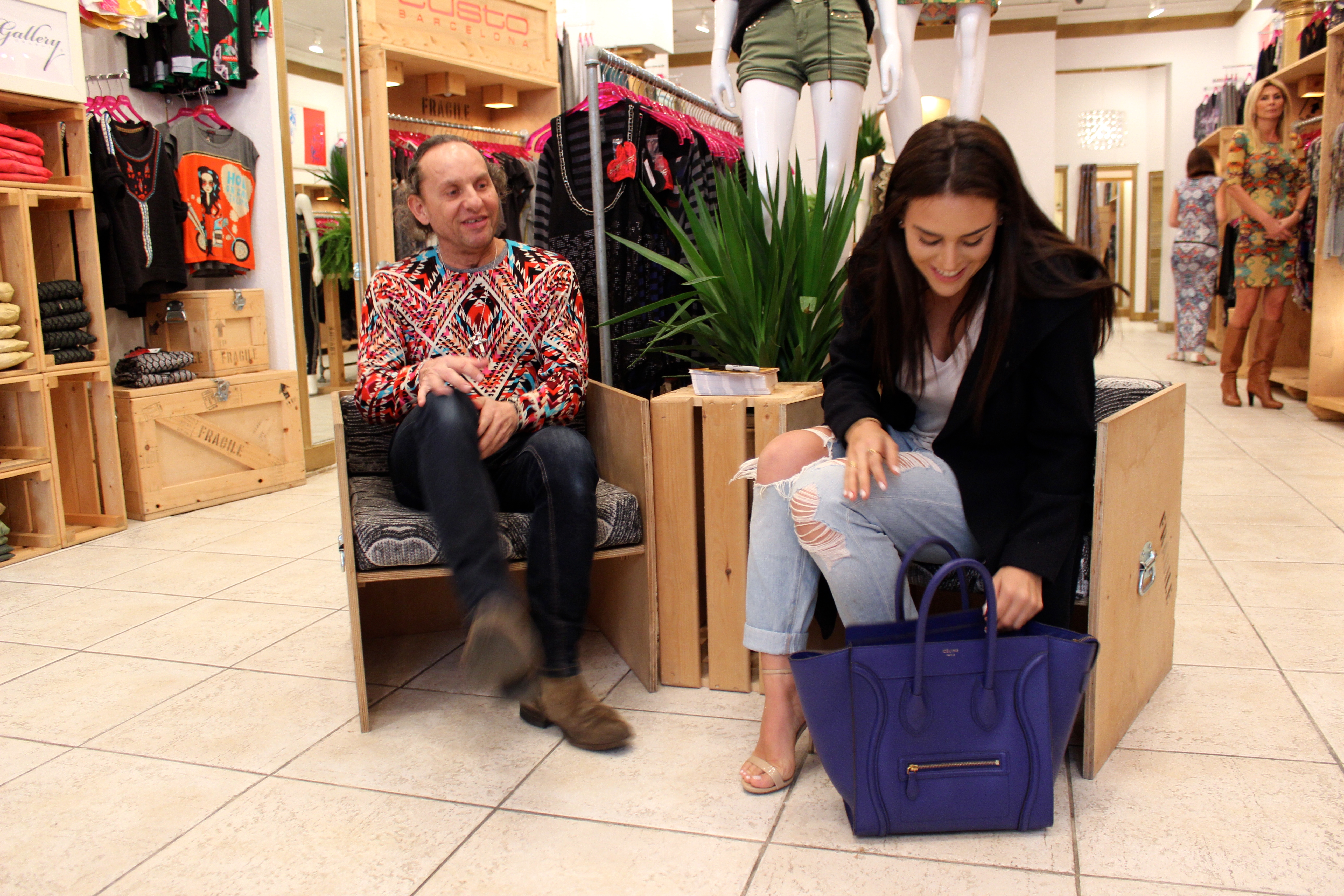 Para Español baje al fondo de la página.
Straight from debuting his Fall-Winter 2015/2016 collection, Spanish designer Custo Dalmau headed down to Miami for the opening of his flagship store in Dadeland Mall. Custo Barcelona's colorful and graphic prints and designs suit Miami's vibrant fashion perfectly. I able to sit one-on-one with the designer and ask him about his collection, inspiration, and more.
– Custo, 34 years ago you were inspired by California's surfers and graphic shirts. What inspires you today?
Our identity. Thirty-four years ago when we did not know anything about fashion, we committed to making a collection where there'd be graphics, colors and a mix of materials. This was our identity. And in thirty-four years we have been very respectful of this DNA which is how our clients identify our pieces without having to read the name on the label. This same identity of ours is what inspires us. This challenge is what inspires us: having to change everything to be the same in a new way.
– You always incorporate fun and bright graphics and colors in your collections. What type of woman or age are your designs directed?
People who like to express their individuality; that don't conform to fashion's impositions. They are people who maintain their spirits young. You can be young at 80 years old and old at 20. It's a state of mind.
– When someone buys an outfit from Custo Barcelona, what do you want he or she to feel?
Identify themselves with the message of individuality that we propose; of feeling slightly different.
– What do you like most from your most recent collection from your show last week in NYFW?
We intend that was a contemporary language starting from a classical language, with classic colors like gray and brown. We wanted to show contemporary winter and mix it with more vivid colors. For women, there is a group of very experimental dresses with new cuts that have a lot of work and I think they are very interesting.
– Which step or part of designing and launching a collection excites you the most?
Everything is fascinating. It's a job that requires a lot work, dedication and enthusiasm. Each collection takes six months. What I like most is the challenge; the challenge to reinvent every six months.
– Which is your favorite season? And why?
Both. I would say that it is easier to design winter than summer because in winter you have more tools and materials than in summer. Each season has its own language. In both you have fun, but there's a change of 'chip.'
– Custo Barcelona has maintained a very signature look/style. How does it continue to evolve with today's trends?
Having that respect for the identity and say 'I am this way and I have to continue to be this way but different." It isn't worth being creative in an identity that isn't your own. You must understand who you are and be able to renew.
– If you had not gone on that trip 34 years ago with your brother, what would you be doing today?
No idea.
Their store in Dadeland mall (next to Apple) will open by the end of February.

Directamente desde New York Fashion week, el diseñador español Custo Dalmau se dirigió a Miami para la apertura de su tienda en Dadeland Mall. Sus colores, gráficos y diseños son perfectos para la moda vibrante de Miami. Tuve un chance de sentarme uno-a-uno con el diseñador y le pregunte sobre su colección, inspiración, y más.
– Custo, se que hace 34 años te inspiraron los surfistas y la camisas graphicas de California, pero hoy en dia que te inspira?
Nos inspira la identidad. Hace 34 años cuando no sabíamos nada de moda, apostamos por hacer una collection donde hubiese grafismo, colores y fusión de materiales. Esta fue la identidad. Y en 34 años hemos sido muy respetuosos de este A.D.N que ha conseguido que nuestros clientes identifican las piezas sin necesidad de leer el nombre en la etiqueta. La misma identidad nuestra es la que nos inspira. Tenemos que ser los mismos de un modo nuevo. Este challenge es el que nos inspira. Tener que cambiarlo todo para ser los mismos de una manera nueva.
– Para que tipo de mujer o edad diseñas?
Personas que les gusta expresar su individualidad. Que huyen un poco las imposiciones de la moda. Son personas que mantienen su espíritu joven. Puedes ser joven a los 80 años y viejo a los 20. Es un estado mental.
– Cuando alguien compra una prenda de Custo Barcelona que deseas que él o ella sienta?
Identificarse con el mensaje que proponemos de afinidad e individualidad. De sentirsen un poco distintos.
– Cuáles son tus piezas favoritas de la collection que acabas de mostrar en tu desfile de Nueva York?
Pretendemos que era un lenguaje contemporáneo partiendo de un lenguaje clásico, con colores clásicos como los grises y los marrones. Queriamos transformarlo en una propuesta de invierno contemporánea mezclandolo con colores más vivos. Para mujeres hay un grupo de vestidos muy experimentales con cortes muy nuevos que tienen mucho trabajo y yo creo que son muy interesantes. Y para los hombres es un conjunto de toda colección.
– Cuáll es la parte que mas te emociona o te gusta de sacar una collection?
Es fascinante todo. Es un trabajo que requiere mucho esfuerzo, mucha dedicación, y mucho entusiasmo. Cada collection tarda seis meses. Lo que más me gusta es el reto, el challenge de reinventarte cada seis meses.
– Cual es tu temporada preferida? Y porque?
Las dos. Te diria que es más facil diseñar invierno que verano porque en invierno tienes mas herramientas, mas materiales y en verano tienes menos. Cada una tiene su lenguaje. En las dos te diviertes, pero es un cambio de chip.
– A través de los años como has mantenido tu estilo tan diferente y marcado en un mundo de moda que cambia tanto?
Tener ese respeto por la identidad y decir 'Yo soy asi." Y tengo que continuar de seguir así de una manera distinta. No nos vale ser creativos en una identidad que no nos pertenece. Entender mucho lo que eres y ser capaz de renovarlo.
– Si no hubieras ido a ese viaje hace 34 años con tu hermano, que crees que estuvieras haciendo hoy en dia?
Ni idea.

La tienda en Dadeland abrira a finales del mes.
Photography by Salome Arango